CONSULTANCY and SUPERVISION
FAPADAG is providing consultancy concerning concrete project writing and implementation.


Furthermore supervision and advise for research projects concerning social inclusion and participatory action research is provided on request, like in the CRIR project in Montréal, Canada (Creating Inclusive Environments for Persons with Disabilities) LINK
Mutual exchange of information is taking place within a research project in South Africa called " People informing Policy: Power & Progress " and financed by SANPAD (The South Africa-Netherlands Research Programme on Alternatives in Development) what is a unique collaborative research programme that has been financed by the Netherlands Ministry of Foreign Affairs since 1997. The Government of South Africa has made many positive laws and policies to support disabled people's access to services and development opportunities. There is a growing call for citizens, including disabled people, to become more informed and active in service delivery. From 2009 until 2012, a team of researchers from the University of Cape Town has worked with the people of Mpoza, to find out if disability policies are helping disabled people in rural areas. They wanted to know if community members and people who work in the Departments of Health, Education and Social Development know about and implement disability policies1 in the village.
The research team
The team included Madie Duncan (project leader)University of Cape Town, Mama Ruth (Nobantu) Watson (researcher), Kate Sherry (doctoral student), Mpilo Booi (masters student), Xaks Dabula (research assistant) and Hanneke van Bruggen (research consultant from the Netherlands). We worked closely with an advisory group of people from Mpoza village, namely Chief Noluthando Mdutyana, Mr Nonjeke, Mr Mpiti, Mr Lu gongolo, Mr Mdutyana, Mr Makaula and Mrs Ngabase. We also received support from service providers especially Mrs Nozihewu (Education); the Mpoza clinic staff and nomakhayas and Sr Gugu Ludidi-Majola and Ms Zine Ntsangani (Health). We are very grateful to the Research Advisory Group for their guidance and thank all the people of Mpoza who welcomed us, took part in the workshops, and taught us a great deal.
Research methods



The researchers visited Mpoza approximately three times a year for about three to four days on each research visit. The study consisted of four parts. In the 1st part (2010), we wanted to find out what is already happening both in Mpoza community and in services. We used interviews and mapping to investigate what community members and service providers knew about disability policy; what their perspectives were about disability and what disability services were already available in Health, Education and Social Development. In the 2nd part willing service providers and villagers did a "Q" card sort (see below), which provided a description of people's opinions about disability and related matters. The information collected in part 1 was used to plan six workshops, which formed the 3rd part of the study (2011-2012). We used the workshops to promote community learning and action. Pictures, stories and role-plays helped to stimulate small group discussions and actions about disability related matters. In the 4th part we repeated the "Q" card sort to find out if peoples' thinking about disability had changed over the three years of the study. The final report of this project will soon appear.

1 For example the National Rehabilitation Policy; the White paper on Inclusive Education; United Nations Convention on the Rights of Disabled People; the South African Disability Rights Charter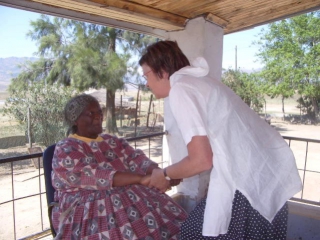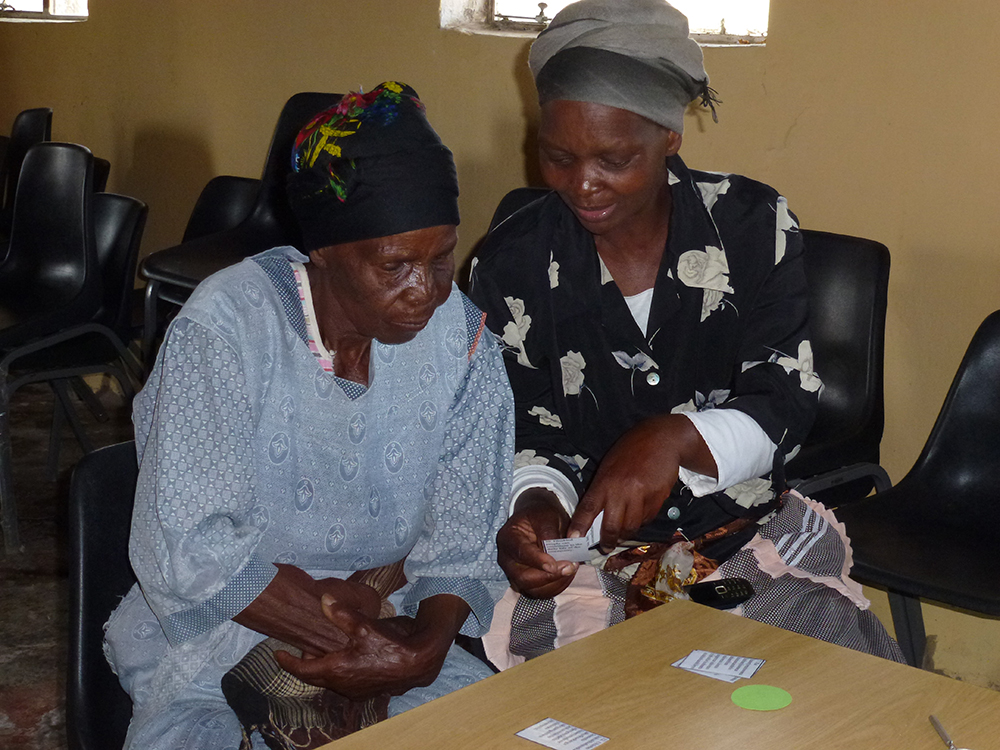 impressions of Mpoza